Staff Picks
Hot Food & Cool Jazz Are on the Menu
As one of the premiere food and wine destinations in the country, Charleston offers a diverse selection this month to pique the palates of foodies and jazz aficionados everywhere...
Read More +
January 4-22: Charleston Restaurant Week
An eagerly-anticipated event, many of the City's most popular restaurants offer prix fixe lunch and dinner menus. For a complete listing of participants and information, go to your app store and search for 'Greater Charleston Restaurant Association, Inc.' to download.
January 20-22: Charleston Jazz Festival
This celebration of Charleston's jazz history will feature famed 20-time Grammy winners The Manhattan Transfer. Also on the lineup is Take 6, along with many of the City's superlative jazz artists. Proceeds support Jazz Artists of Charleston's Youth Jazz Programs. For details, visit: www.thecharlestonjazzfestival.com
January 29: 34th Lowcountry Oyster Festival
Named one of the Top 20 Events in the Southeast, the festival will feature the ever-popular oyster-eating contest and oyster-shucking contest, along with live music, beer, wine, and signature dishes from local restaurants. Proceeds will benefit both local and national charities. For details, visit: charlestonrestaurantassociation.com/lowcountry-oyster-festival/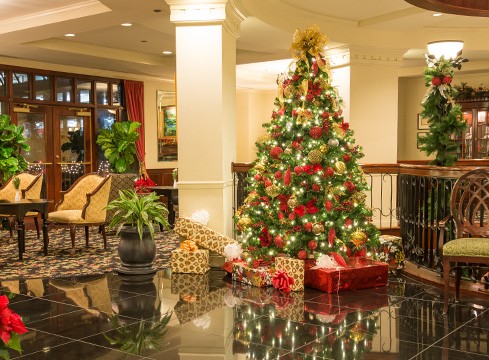 Heighten Your Holidays at Charleston's French Quarter Inn
This December, delight in a charming Charleston Christmas with our "Heighten the Holidays" package...
Read More +
Book reservations anytime between now and January 4th, and we'll make your holidays even brighter with a VISA gift card for $100, complimentary valet parking, a $75 gift card for your choice of one of three fine restaurants: High Cotton, SNOB, or the Old Village Post, and a Charleston-themed, handcrafted brass keepsake holiday ornament.
You'll luxuriate in deluxe accommodations, along with evening wine and cheese receptions. Sip a nightcap of Port, or milk with freshly baked cookies, before retiring to a turned-down bed topped with a Charleston treat. Savor an artisan continental breakfast in our elegant lobby, or have it delivered right to your room. Indulge in some gourmet holiday treats along with eggnog, hot chocolate or hot apple cider from our Sweet & Savory Holiday Bar.
So, make this Christmas your merriest ever, and book now to avoid the last-minute holiday rush! Visit http://fqicharleston.com/packages-and-offers/charleston-packages/ for details.
Make This Thanksgiving Memorable and Choose Charleston as Your Destination
This November, change up your routine and come to the French Quarter Inn for an unforgettable launch to your holiday season...
Read More +
Below are only a few of the activities that Charleston has to offer during Thanksgiving weekend.
Get pumping early on Thanksgiving morning with the Turkey Day Run, which also features a fun run for the kids and other family activities. If you prefer a slower pace, take a Charleston Strolls walking tour to see the city's famous landmarks, along with historic antebellum homes, gardens, and courtyards.
On Friday, head over to King Street for some boutique shopping to finish up your Christmas list. Saturday morning breakfast at the Farmer's Market in Marion Square is a must, and Saturday evening's holiday Progressive Dinner is an elegant Charleston tradition.
Before you leave, stop in at either the Hominy Grill, High Cotton, Magnolias, or the Fat Hen for a memorable Sunday brunch. Have a safe trip home, and we'll see you again soon!